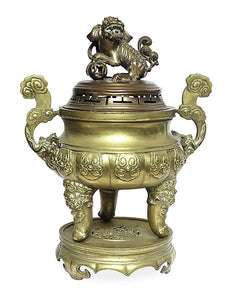 The body of squat form with out swept cloud scrolled terminals raised on a tripodic base of taotie masked legs, the cover peirced and surmounted by a fo dog with ruyi sceptre, the low set stand inset with a peirced shou seal, the censor with embossed peacock stamp to base.
Provenance: Private Australian Collection.
Condition: Wear consistent with age and use. Overall in good condition.
Weight: Approximately 5.2 Kilograms.
Dimension: Height: 60 cm.