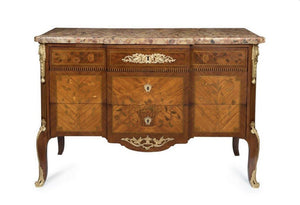 With inlaid marquetry to front panels, gilt bronze mounts and stamped Corbisier.
Provenance: Private American Collection.
Condition: Lightly used, with very light scratches, but has no structural issues.
Weight: Approximately 120 kilograms.
Dimension: Height: 85cm Width: 125cm Depth: 52cm
Notes: Pierre-Francois-Joseph Corbisier was active as a cabinet maker in Paris in 1768.