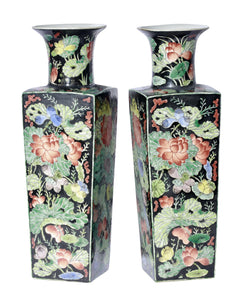 in the Kangxi style, each with a tapering square sectioned body and a flared neck decorated with lotus flowers and foliage on a black ground, six character mark to base.
Provenance: Private Western Australian Collection.
Condition: Discolouration to enamels on neck of one vase but no apparent restoration under UV light, one spot possibly restored inside edge of rim on other vase, one with hairline crack to base.
Weight: 4526 grams and 3903 grams.
Dimension: Height: 50 cm.