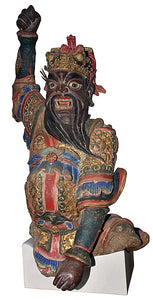 The upper body of a combatant, his face instilling terror with one arm defiantly raised, dressed in a tunic and body armour, crowned with a comparible headress.
Provenance: Acquired Sotheby's Melbourne, 1st & 2nd May 2007, lot 214.Ex collection of the New England Regional Museum.
Condition: Overall in good condition.
Weight: Approximately 15 Kilograms.
Dimension: Height: 78 cm.