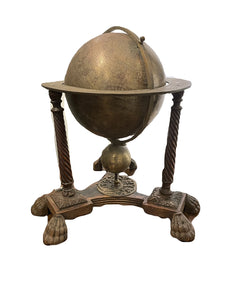 The globe decorated with finely incised foliate embellishments, surrounding zoomorphic and anthropomorphic figures, with encircling graduated meridian ring and engraved and graduated horizon ring with carved zodiac signs and floral and foliate decoration, above another secondary globe with carved Arabic script, between the solomonic pilasters, on moulded lion's feet.
Provenance: Private Sydney Collection.
Condition: Overall in good condition.
Weight: Approximately 20 Kilograms.
Dimension: Height: 67 cm Diameter: 52 cm.