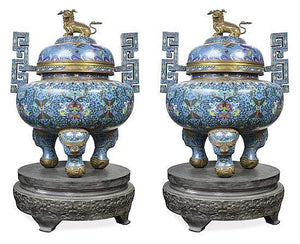 Of squat bulbous form raised on a trio of mask headed trunk like legs, the body flanked by pierced fret worked terminals and surmounted by a domed cover with gilt fo dog finials,apocryphal six character Qianlong mark to rim together with a pair of ebonised circular timber bases.
Provenance: Acquired from a Singpore Temple.
Condition: Very good condition overall. Surface pitting throughout to enamel, original to the firing process. Bases have compressions and abrasions. Some movement to the handles and fo dog finials.
Weight: Approximately 35 Kilograms Each.
Dimension: Height: 98 cm Base: 30 cm.